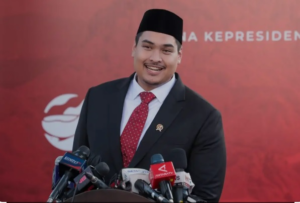 On 4th April 2023, K-CASE Lawyer is proud to announce that our esteemed partner, Yudistira Adipratama, recently represented the Esports Federation of Indonesia ("Pengurus Besar Esports Indonesia – "PBESI"") in a momentous event at the Ministry of Youth and Sports. Mr. Yudistira Adipratama, who serves as PBESI's Head of Law and Legality, played a crucial role in the handover of the post of Minister of Youth and Sports from the now-former Minister, Mr. Zainudin Amali, to the new Minister, Mr. Ario Bimo Nandito Ariotedjo.
During the handover ceremony, Yudistira met and discussed with Mr. Zainudin Amali and Mrs. Hetifah Sjaifudian, Deputy Chairperson of Commission X of the House of Representatives. Both individuals worked with Yudistira when he previously advised the House of Representative on the amendment of the Sports Law, showcasing his deep expertise in the field.
In addition, Yudistira also had productive discussions with the Head of Division IV of the Ministry of Youth and Sports in the field of development of Sport Achievements. These discussions centered around the imminent issuance of a Ministerial Regulation on esports, highlighting Yudistira's dedication to advocating for the growth and recognition of esports in Indonesia. This would be in addition to the other regulations around esports that Yudistira has contributed to, which are the current Sports Law, the flagship PBESI Regulations (also known as PBESI Regulation No.34), as well as an upcoming Presidential Regulation concerning the Acceleration of the National Game Industry.
The handover of positions was carried out directly by Mr. Muhadjir Effendy, the Coordinating Minister for Human Development and Culture, underscoring the significance of this event. Yudistira's involvement in this important handover ceremony further solidifies K-CASE Lawyer's reputation as a leading law firm in providing legal counsel and representation in the esports and gaming industry.